I love these kinds of stories. Real Columbo-level homicide crime drama. Poor Brian Underwood, murdered by a lethal dose of potassium cyanide in 1991. But so far, the police have been unable to close the deal and level charges. They have lots of circumstantial evidence but no smoking gun, so to speak.
I don't mean to speak ill of the dead, but is a workplace spat really enough of an explanation for poisoning murder? There really is no connection whatsoever between Mr. Underwood and this unnamed female suspect?
And what about this poor guy, Clarence Harry Greenwood, murdered by his beer? What kind of a monster poisons a man's beer?!! Think of poor Clarence – puts in an exhausting day of drinking and domestic violence, then leans back to relax with a cold, after-harassment beer only to knock the top off the bottle only to discover it's lost it's glorious fizzy nectar. What's a man to do except to shake his head at the injustice of it all and drain the bottle anyway? That's when the abdominal pain and vomiting and death kick in. This is how Clarence is described in the article:
"An alcoholic with associated health problems including a stomach ulcer, Clarence was involved in a testy relationship with his defacto, Annie Greenwood, also known as Gwen Smith, with whom he had 12 children."
Wait a minute – 12 children?!! Are we sure this is a murder? Did anybody check for a suicide note?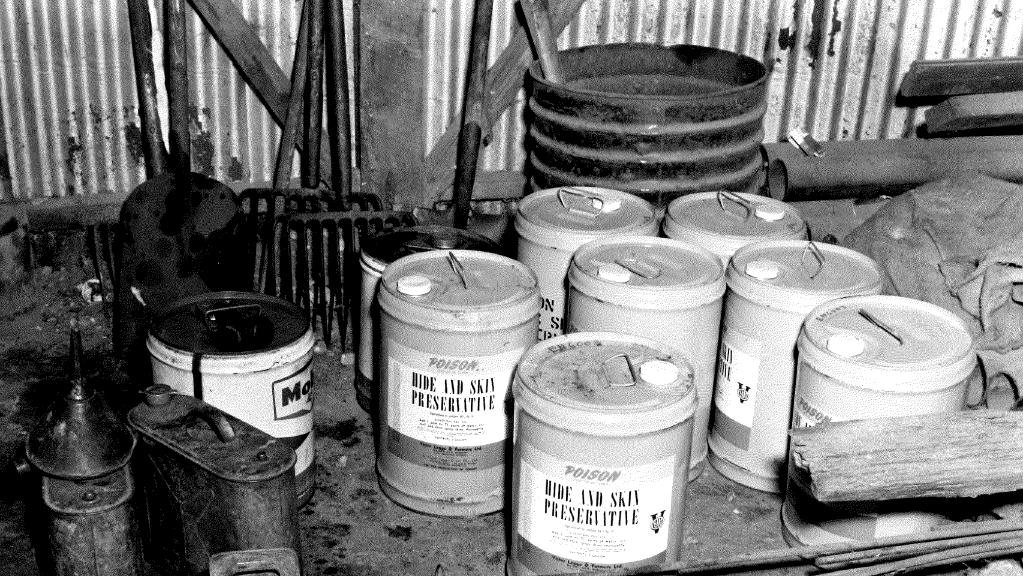 Drums of poison found at Clarence Greenwood's house.